P.O. Box 480. La Ronge, SK S0J 1L0.
Phone: (306) 425-4938. Fax: (306) 425-3030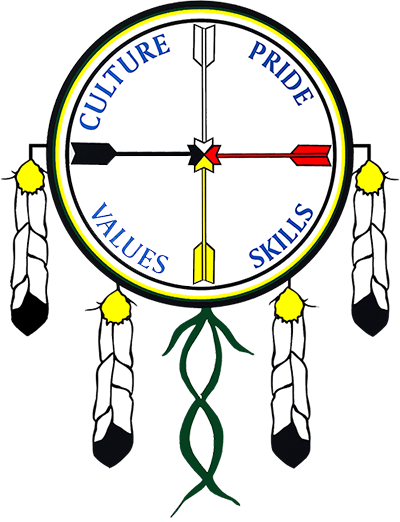 "kiskinwahamātotān"
Teaching Each Other
DEFINITIONS
1. Culture: Language, seasonal gatherings, fishing, hunting, trapping, tanning, survival skills, entertainment, music, dance, sports, oral traditional stories, community role modeling, legends, spirituality, art, history, cooking and transportation.
2. Values: Respect for the Creator and all his/her creations, self-respect, independence, respect for others, beliefs, morals, customs,
knowledge, language, wisdom, identity, honesty, trust, endurance,
patience, sharing, self-discipline, learning, respect for the
environment: wildlife, fish, land, water, air, plant life; medicine
wheel: emotions, mental, physical, and spiritual.
3. Skills: Safety, observation, positive judgment, communicating, listening, historical and contemporary traditional skills: providing crafts, tanning, storytelling, survival; academics and technology.
4. Pride: Self-respect, community, kinship, achievement, accomplishments, learning, Cree culture, history and language.
---
VISION:
The education of our children is based on the culture, values, skills, and pride of the Lac La Ronge Indian Band. Educational activities reflecting Woodland Cree culture and Cree language are to be integrated into the provincial curricula to provide the educational foundation from which the individual student can learn to live successfully and happily in any society. By providing educational experiences that interconnect the child's community, Cree language, history, and culture, the provincial curricula, and the world at large, our children will acquire the skills, knowledge, and strength to enable them to assume productive roles as adults.
---
MISSION STATEMENT:
The Lac La Ronge Indian Band, N-12 Education Program will provide an education that meets the unique needs of our children; that emphasizes the four goals of pride, culture, skills, and values; and that helps our children achieve academic excellence and proficiency with the Cree Language. The Lac La Ronge Indian Band, Post Secondary and Adult Training Program will provide support to Lac La Ronge Indian Band members to gain access to post secondary education, training, and employment opportunities to attain the qualifications, skills and experience needed to pursue individual careers which will further contribute to effective Band government and economic self reliance.
---
GOALS:
To provide a quality standardized educational program for all students in a safe and caring environment.
To provide educational opportunities for all our students to learn and develop the knowledge and the skills needed to successfully participate in society.
To provide educational programs that will develop pride in our students.
To provide educational programs that promotes and upholds the traditional values of the members of the Lac La Ronge Indian Band.
To restore and maintain Cree language and culture.
To ensure that Lac La Ronge Band members have access to financial support for post secondary education opportunities.
To ensure that post secondary educational and technical/trades training opportunities are provided for Lac La Ronge Indian Band members.
To initiate and facilitate work experience and employment opportunities for Lac La Ronge Indian Band members.